Open Network Lab (Onlab), operated by Digital Garage, is Japan's longest running startup accelerator program with the mission of incubating startups with global ambitions. Recently, Ken Covey, Program Mentor at Open Network Lab caught up with Gary Lo, Co-founder of PSYGIG and graduate of Onlab's 14th batch (2017) — to hear about what got him into entrepreneurship, doing business in Japan, and what he is working on now.
< Profile >
Gary Lo
Born in Hong Kong and grew up in Vancouver. After a stint in IBM Business Analytics and a graduate program in Software Management at Carnegie Mellon University, he worked as a full-stack engineer at two YC-backed startups (500friends and inDinero), where he led the development of their big data analytics platform and backend systems.
< Profile >
Ken Covey
Ken focuses on investments (mostly ex-Japan) and hands-on support for Onlab's portfolio companies. He also provides localization support for overseas investments and serves as a conduit to the resources, network, and know-how of Digital Garage Group.
Automating data analysis solutions for mobility IoT x cutting edge sensor tech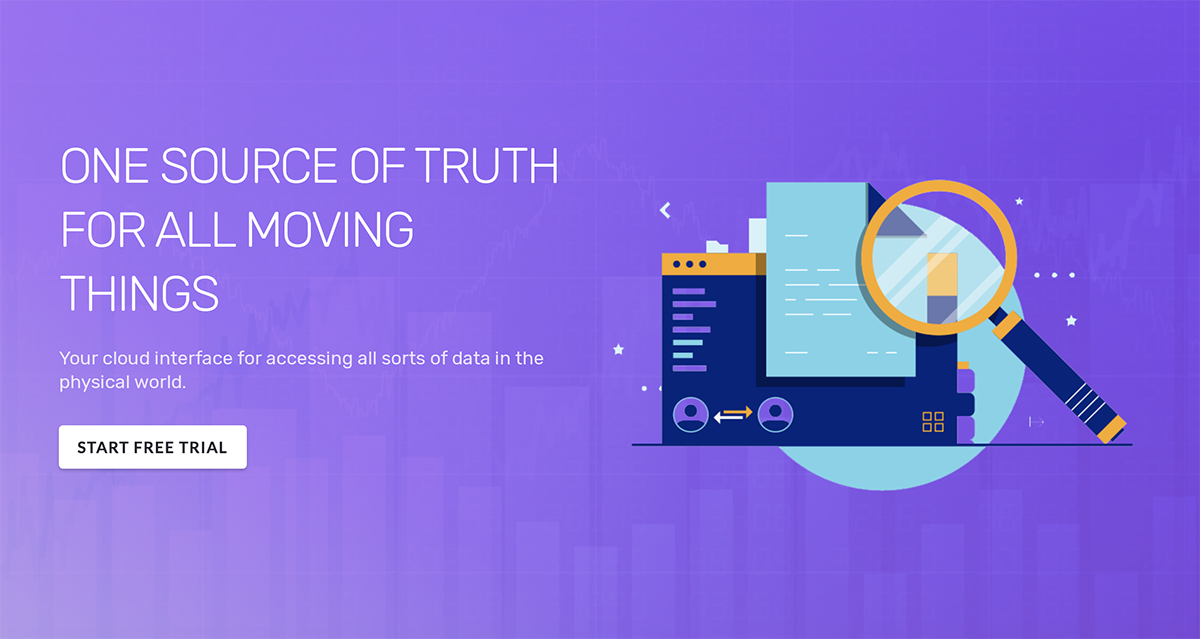 ー What is PSYGIG and what problem is it solving? And how do users benefit from using the product?
PSYGIG is a Tokyo-based startup that was founded in 2017 and provides a cloud-based web platform for automating IoT data analysis. Our platform allows device makers, owners, and operators to aggregate, manage, visualize, and share sensor data attached to drones, robots, and IoT devices. We use machine vision and analytical tools to automatically detect potential hazards and alert users in real-time, allowing users to grasp the situation and take the best course of actions.
PSYGIG's IoT solution can map out real-world physical spaces using AI, LiDAR and thermal sensors without specialized knowledge. As a result, it is possible for users to automate timely inspection work, such as malfunctions of autonomous machines or defects in infrastructure.
Traditionally, it took a couple of weeks for developers to figure out how to work with new sensors, but with PSYGIG, this can be completed in hours. In addition, processing data from IoT sensors on the cloud usually requires very different expertises. With PSYGIG offering the cloud platform as SaaS, On-Premise, and Backend as a Service, companies who create or operate IoT devices do not need to hire new cloud engineers to build their own infrastructure from scratch and to maintain the systems 24/7.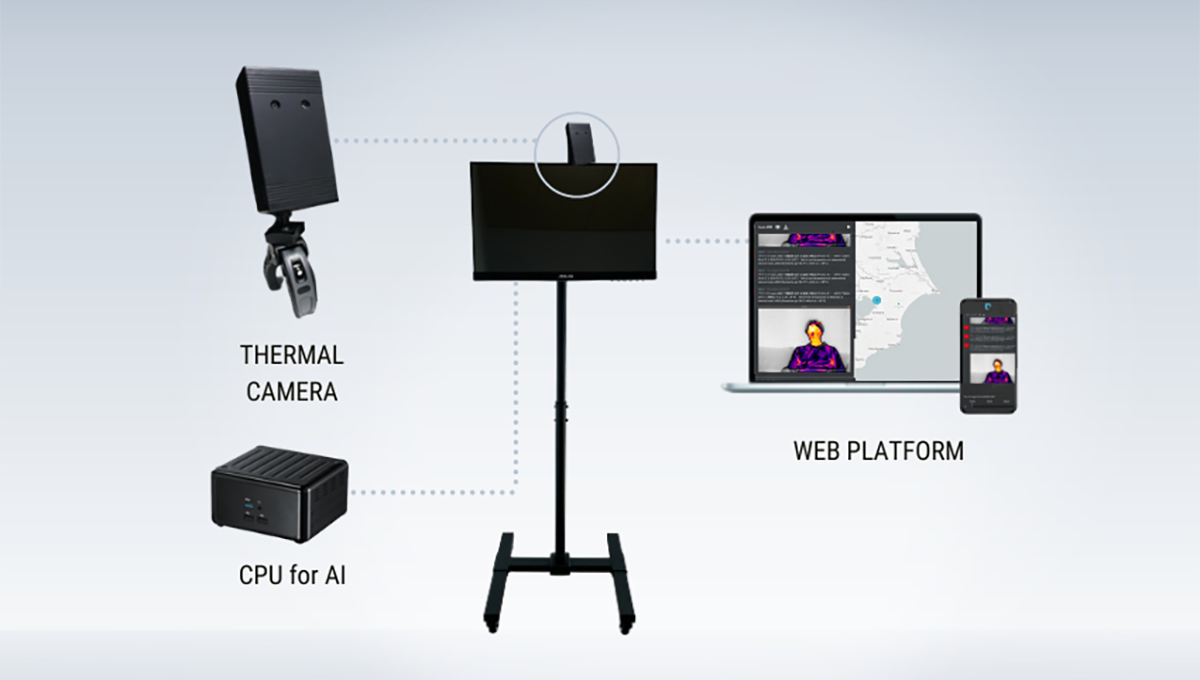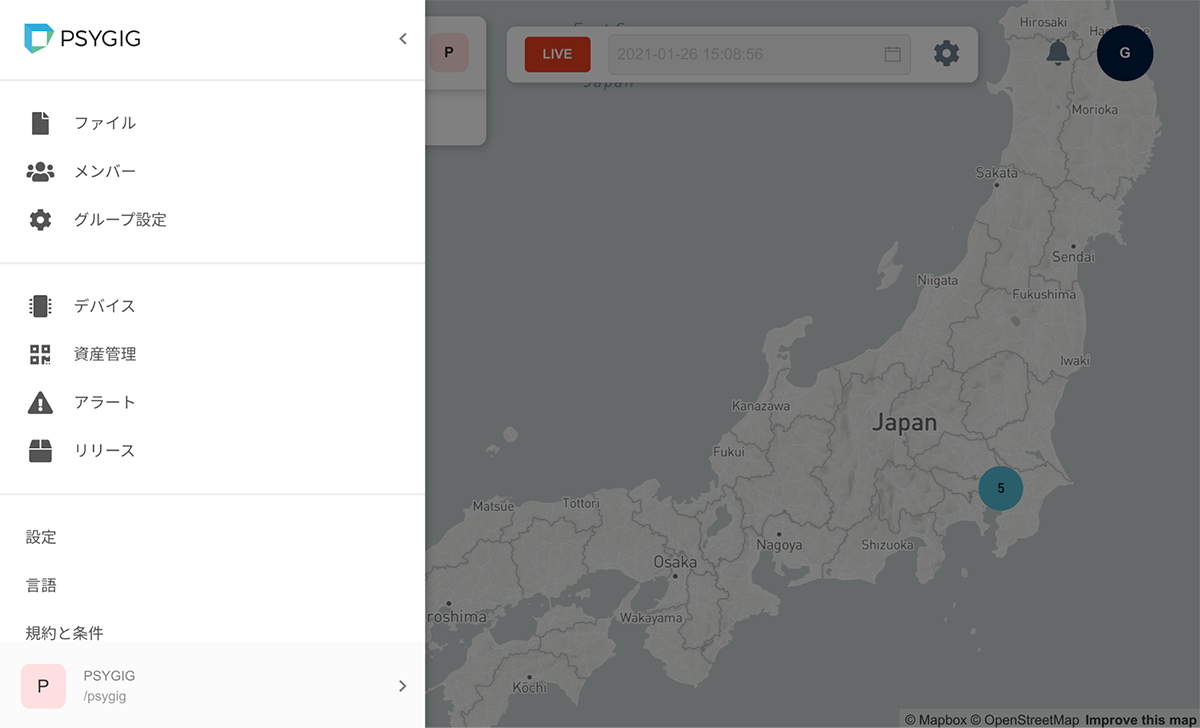 ー Please update us on what you've been working on recently
We are always adding new features and supporting new use cases with our core platform which focus on three areas: sensor fusion, perception, and the alert system.
Recently, PSYGIG started providing the "Thermal Imaging" solution for detecting elevated body surface temperatures in response to the COVID-19 outbreak. Business owners are seeking a quick method for screening people with symptoms to minimize the spread of infection. By combining the thermal module with AI and the cloud, anyone can quickly check their health status and crisis level by themselves. We were able to complete a working prototype in just a few days because our team has been working with similar machine vision and sensor technologies in the drone industry. Our web platform makes it easy for users to collect similar sensor data devices and configure rules for sending actionable insights to the decision makers. Since launching, Thermal Imaging has been featured in major media outlets and deployed in a wide range of businesses―including shopping malls, offices, bus stations, schools, cruise ships, and aquariums. It is also our first product where our newly established reseller partners will be selling our products across their distribution channels.
As we are continuously supporting new sensors, we just announced a new business partner with a maker of digital lidars, which will allow our platform to handle more interesting use cases for public infrastructure with new perception algorithms. Last but not least, our alert system will be getting some exciting capabilities that will help more companies respond to issues and potential hazards much better.
https://thermo.psygig.com/
https://lidar.psygig.com/
Mentorship from successful entrepreneurs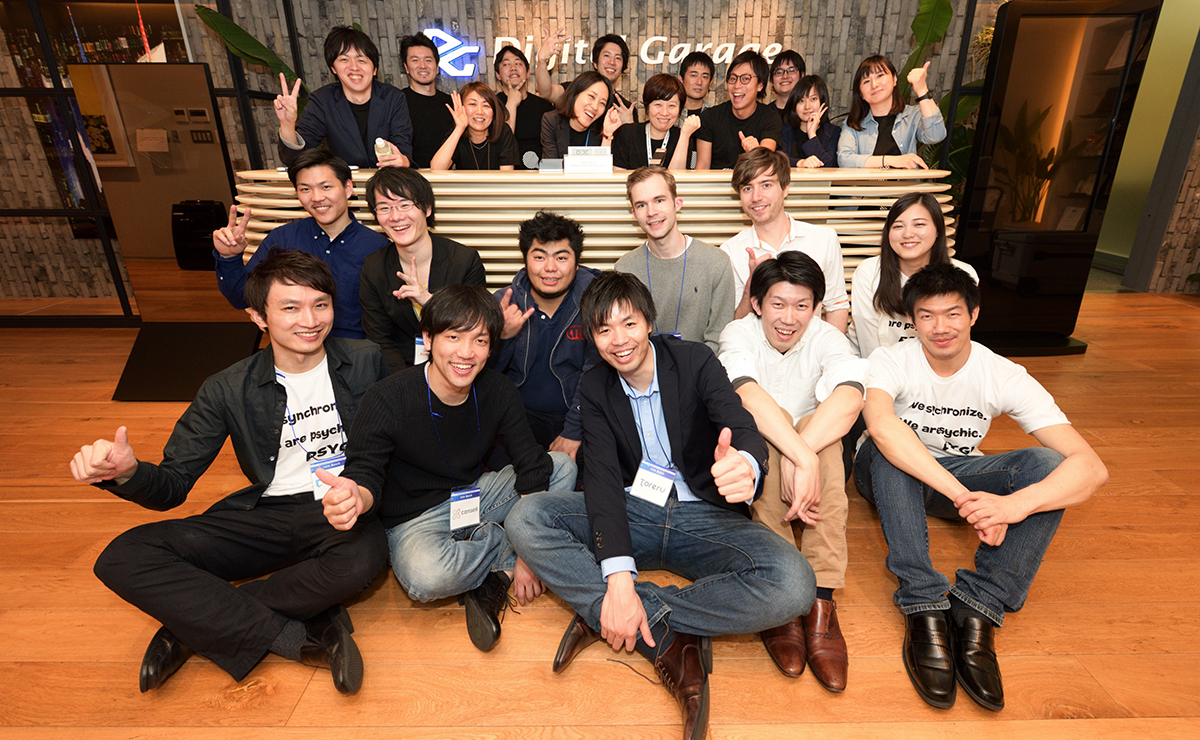 ー What factors went into your decision to apply to Onlab, a Japanese accelerator program?
Onlab is the most reputable accelerator in Asia I knew and I used to meet with a few Onlab Alumni who were having great successes on the global stage while I was still living in San Francisco. Convinced that companies receiving investments from Onlab had a great track record and the highest success rates after graduating the program, I decided to keep my eyes on Onlab and wanted to somehow learn the secrets to their successes.
ー What was the status of PSYGIG's business when joining Onlab?
Prior to moving to Japan, we made a pitch deck, and agreed on the founder's agreement and the scope of the first MVP. Both my co-founder and I lived and worked in Japan as a part of the Canada-Japan Co-op Program approximately 10 years ago. I was in Fukui Prefecture where I worked with many fabulous hardware and mechanical engineers in creating simulation of cold-forging machines in 3D. Therefore, it did not take us long to settle down and start engaging in technical discussions with relevant companies at trade shows to validate our hypotheses.
ー What new insights did you gain from going through Onlab?
Throughout the Onlab program, we gained many valuable tips and knowledge for building pitch decks in order to fundraise from Japanese investors. We frequently received critical feedback on our pitch and business execution from experts with various perspectives. At regular meetings, we also learned from fellow entrepreneurs and Onlab alumni who were willing to share their inside stories about successes and mistakes.
ー How did you apply the advice from your mentors to your business?
Onlab mentors helped us improve our pitch and make a detailed business plan. What impressed us the most was that the mentors saw our business from different angles and they had highly specialized perspectives as entrepreneurs with track records of success. We applied their thought-processes and strategies immediately and repeated the trial and error process in an attempt to replicate some successes in terms of acquiring new customers and getting better results with less effort.
A tip for survival in Japan: focus on clients' needs rather than tactics—then you will win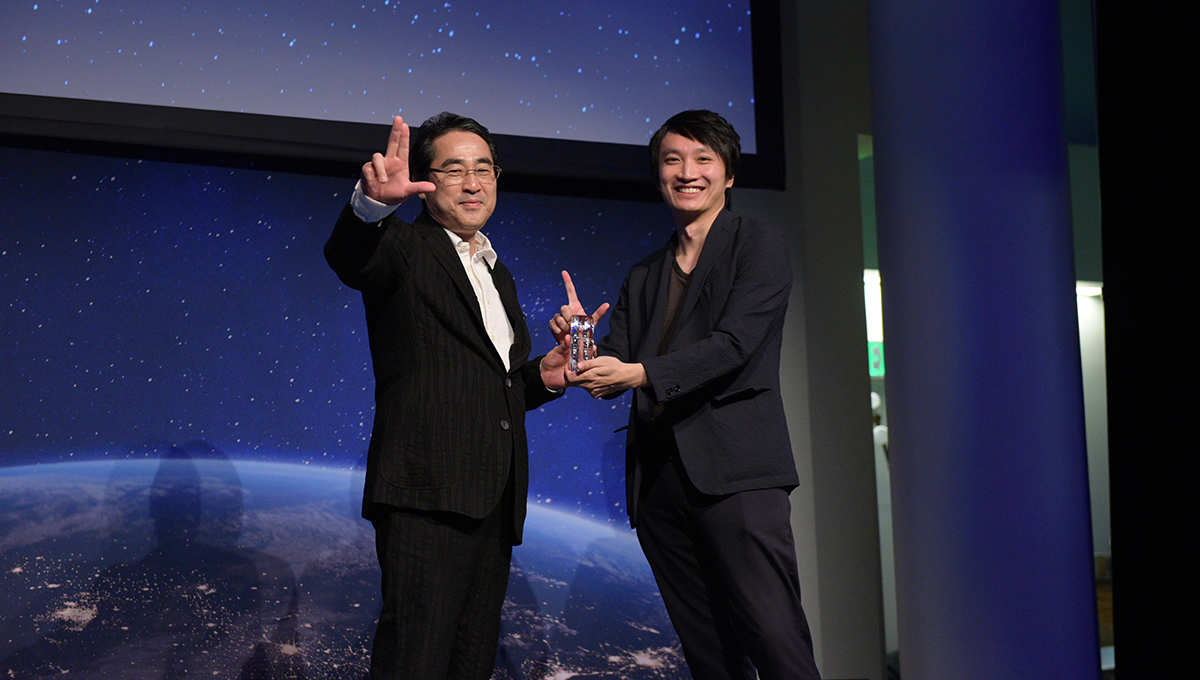 ー To rewind a bit, please give us some background about what got you into entrepreneurship
Looking back, I would say there were a few major life choices that define who I am today and led me to choosing entrepreneurship over other things to do in life. First is the choice of tinkering with computers early in life which led me to software engineering as a profession. Since I started programming and doing web consulting contract work when I was 15, I realized that 'pushing the envelope' is the only constant in the tech industry. Constantly thinking about how we can advance the research in a field or applying some cutting edge tech to solve some problems are the basis of many new startup product idea generation.
ー You've worked as an engineer since you were a teenager. How did you develop your business skills like sales and consulting?
It also leads to my second turning point, I realized the necessity to convince people with different backgrounds that you have something of value to offer. Through IBM's Extreme Blue Technical Leadership Program, we practiced pitching business cases and demoing prototypes to business executives, consultants, engineers, and sales. Hearing the feedback from experts from diverse disciplines provided us new perspectives in how new ideas can provide value in business.
Third is the experience of working at startups and participating at hackathons in Silicon Valley. It is incredible to be in a place with many startup events like hackathons where you can easily connect with like-minded people who are also passionate about building things. I met many experienced startup founders including Onlab alumni at poker parties and ping-pong tournaments, and most people I worked with at hackathons also ended up starting their own companies. Hackathon events are just great to meet co-founders and to practice evaluating hundreds of ideas that are competing for resources like attention and talent.
ー By actively participating in startup events, you were able to meet your future co-founders and connect with like-minded people. What next choices did you make after working for a startup and connecting with experienced entrepreneurs?
The final choice was about sacrificing a normal stable working career and delving into uncertainties just to realize my own plans and ideas. While many people are happily employed at tech companies, there are still three main hurdles for those wanting to quit their job to start a company: idea, team, and investment. I got the idea for PSYGIG after talking to some engineers who were working on new LiDAR sensors and self-driving cars. In November, 2016, I pitched the idea to some friends and DG's Onlab program. Within a month, we got a plan, a team, funding, and a one-way flight ticket to Japan.
ー Any tips for international (non-Japanese speaking) entrepreneurs that are looking to do startups in Japan?
If you target local Japanese companies as customers, it definitely helps to understand the local business etiquetteーfor example, business card exchanges, writing formal Japanese emails (make full use of google translate as needed), and "reading the air" at meetings. Furthermore, participating in local startup pitches, hackathons, and drinking sessions (nomikais) can open new doors and lead to business deals.
At the end of the day, I would suggest non-Japanese entrepreneurs figure out ways to learn what local people care about and want, and then provide value for others as much as possible. People care about you when you care for them. The scale of individualism and collectivism should also be taken into consideration when building cross-cultural teams and partnerships.
ー Is there anything else you'd like to tell our readers?
Consider working with us at PSYGIG to unleash your potentials and to solve challenging problems together! Find me on Twitter or LinkedIn if you have any questions or wanted to learn more about the opportunities here!