Open Network Lab (Onlab), operated by Digital Garage, is Japan's longest running startup accelerator program with the mission of incubating startups with global ambitions. Recently, Ken Covey, Program Mentor at Open Network Lab caught up with Archer Chiang, Co-founder of Giftpack and graduate of Onlab's 17th batch (2018) — to hear about what got him into entrepreneurship, doing business in Japan, and what he is working on now.
< Profile >
Archer Chiang — Co-founder of Giftpack and graduate of Onlab's 17th batch
Archer is a serial tech entrepreneur who began his startup journey at 19 and fell in love with it ever since. Born in South Africa, raised in Taiwan, and now living in New York City. With a strong background and experience in programming and product design — now currently working on his 4th startup, Giftpack, an AI-powered business gifting platform that empowers people to make concierge gifting just one-click away.
< Profile >
Ken Covey
Ken focuses on investments (mostly ex-Japan) and hands-on support for Onlab's portfolio companies. He also provides localization support for overseas investments and serves as a conduit to the resources, network, and know-how of Digital Garage Group.
AI-powered Gifting platform-Giftpack-delivers gifts across borders
― What is Giftpack and what problem is it solving?
Traditional gifting is very time-consuming and hard to scale with personalization. People treat gifting seriously because they care about their relationships but it's super difficult to do it right because of the creation, tracking, and reviewing process, as well as understanding the receiver's preferences.
Giftpack makes corporate gifting just one-click away with the help of AI. We provide personalization at scale by analyzing the vast data available online of the gift recipient (eg: social data, Internet trends, statistic reports etc.). We also make it possible for anyone to send a hearty gift to a colleague or loved one across the world in a matter of days with our global logistics solution. Our solution is easy for anyone to operate and no new software installation is required. We handle all the work from the selection of the perfect gift to fast delivery. We also help businesses calculate the return on investment of their gift-giving activities. Since its founding in June 2016, Giftpack has grown to a team of 30 members from 11 countries.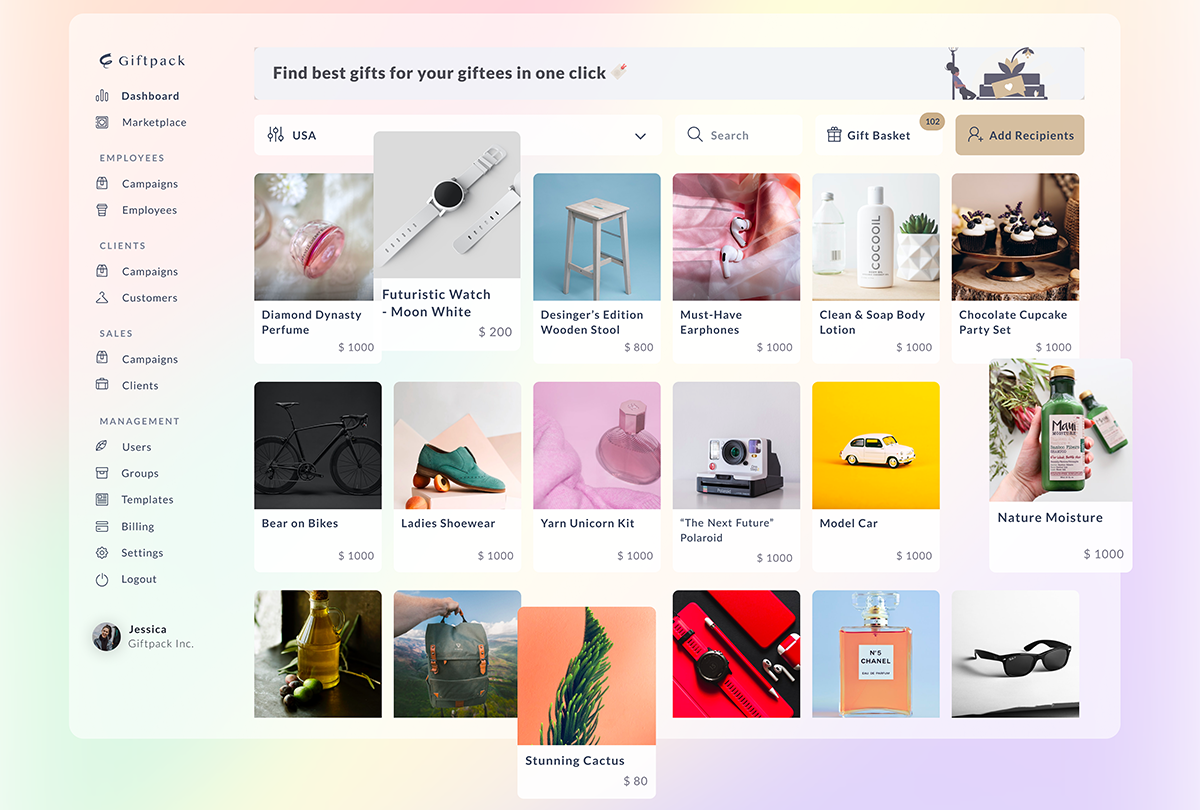 ― Why did you start Giftpack?
In 2016, our team was trying to develop a solution for people in long-distance relationships. We wanted to make it so anyone can send hyper-personalized gifting experiences in as little as 3 hours worldwide. We started with giftpack.io—a global on-demand gifting service for consumers that focused primarily on unique delivery experiences (https://giftpack.io). But as time went on, many businesses started knocking on our door and asking about personalizing gifts for their clients and employees. We also realized that the deeper need in the gifting market was "How to find the perfect-matching gifts", rather than delivery experiences. That's why we started working on our AI solution for corporate clients (https://giftpack.ai).
The essential part of Giftpack's business is about human connections. We are not only one of the pioneers in the industry but we are also a company that places importance in making people happy and connected.
― What are you currently focusing on at Giftpack?
Giftpack Inc. in Japan offers a global AI gifting solution for both corporations and individuals. Our main focus is our corporate gifting (B2B) solution, which aims to improve employee satisfaction and facilitate better sales-gifting for advertisers and consulting companies. The reason for this pivot is that I have found there is potential for hyper-growth in the B2B market and a chance to create real value for corporations.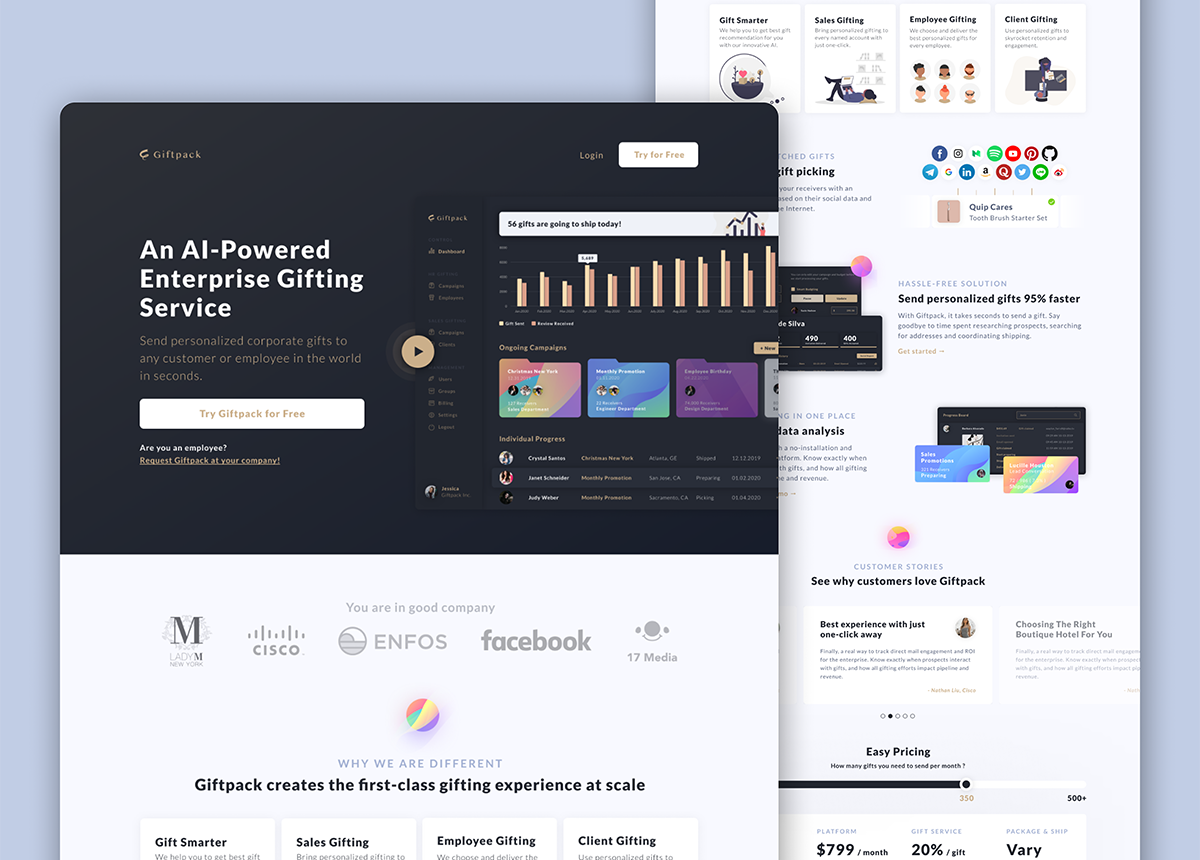 ― Virtually everyone's lives have been impacted by COVID-19. How is your business adapting to these changes?
I don't think it's the best time to expand our business offline but demand from users is growing worldwide. COVID-19 for us is like a booster that generates a stronger value proposition for us. People cannot physically meet their employees and clients at the moment and it is causing a big problem not only in maintaining a good relationship but also the logistics of the gifts. No one works in the office anymore and it became our opportunity to provide true value to the market. Strategic partnerships also helped a lot in getting more sales and creating a better impact.
Joining the Onlab program to compete on the global stage
― How did you become an entrepreneur?
I am 28 years old now and have experience launching four businesses in America, Taiwan, China, and Korea. I was born in South Africa and have had a unique mixed culture experience in my childhood. When I was a college student in Taiwan, my parents couldn't afford my tuition due to financial issues. Therefore I had no choice but to work for myself and make money.
I decided to found a professional software programming studio for the first time in 2011 and created large quantities of websites and applications. Fortunately, the company grew steadily enough to handle many global customers, not only in Taiwan but also in Hong Kong, Singapore, and Japan. Thanks to that, I earned about $400,000 USD two years later to pay for school. In college, we also created a new interface for students to make their college lives more fun; software applications to select classes easier and get discounts from restaurants around the school.
The experience at that time is still useful in building a business with a team, especially in terms of engineering. My cofounder Bing Yue and our teammates have been working together ever since. Today we are committed to sustainably creating product-oriented services because we want to improve people's lives.
My journey started as a software engineer who wanted to make a better world. Then, I ended up becoming an entrepreneur to create a more significant impact. In the future, I can perhaps become an angel investor to be part of innovation for the future.
― What factors went into your decision to apply to Onlab, a Japanese accelerator program?
Japan has enormous potential in the gifting market, and we simply liked Japanese culture and how people lived in the country. Therefore I wanted to get a one-way ticket to move and start a new business. I also used to study both success and failure cases of Japanese startups before making my move.
Our team also realized it's tough to step into the market without any help. We needed to find big players who were willing to support foreign startups. Then my teammate found Onlab by googling for accelerator programs in Japan. As soon as I read its description on the website, I was convinced "it must be one of the best backings for us". Then I talked with teammates and decided to apply.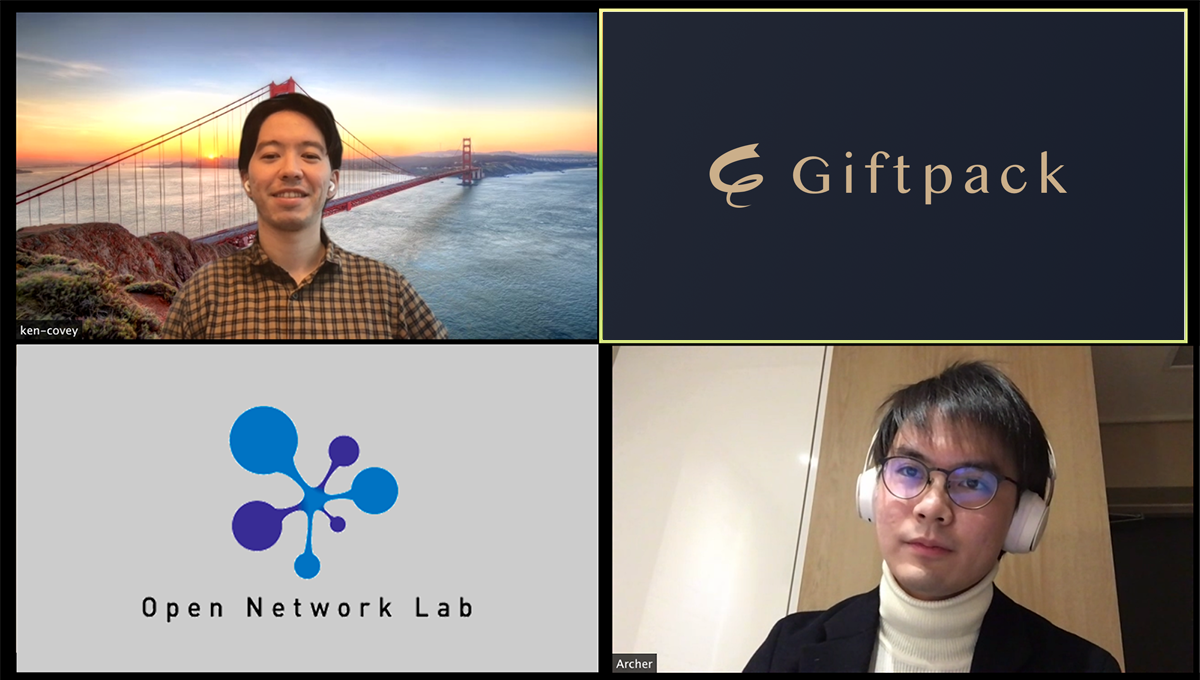 ― What was the status of Giftpack's business when joining Onlab?
Now we have 15,000 MAU and expanded our business to corporations with "Giftpack.ai.". However, with our 2C service "Giftpack.io", we had only approximately 1,000 users on our website when we got selected for the program.
When we were applying to the program, we were still trying to find product-market fit in Japan—the country that we felt had the strongest gifting culture worldwide. We also wanted our investors to understand our value, and we wanted to be able to better communicate our story.
To be honest, we were not sure about whether our product was going to succeed. Tons of hypotheses were in our minds—waiting for us to verify. Onlab gave us a chance to make it real.
― What new insights did you gain from going through Onlab?
We learned how to advance business in Japan and the importance of connecting with many talented people and big corporations who can continuously help us even now.
Not only did we learn how to do business in Japan but also how to pivot our product in order to move forward when we saw there was a better path for the company. We still have our vision but there are thousands of routes to the same destination.
I can't put everything into words because I've learned so much. I would definitely love to retake the program whenever I have the opportunity.
― How did you apply the advice from your Onlab mentor to your business?
During the program, we challenged everything we discussed, hypothesized, and kept verifying the results. As the most memorable story, one of my mentors told me, "Archer, corporate gifting is the only way you will survive. I know you have big visions of the B2C market, but you can come back to it ten years later if you want." To be honest, I didn't want to give up on our B2C platform at that moment. However, his word led us to the current Giftpack.ai, a B2B gifting platform that has seen rapid growth in the past year.
When in Japan, make connections for your business growth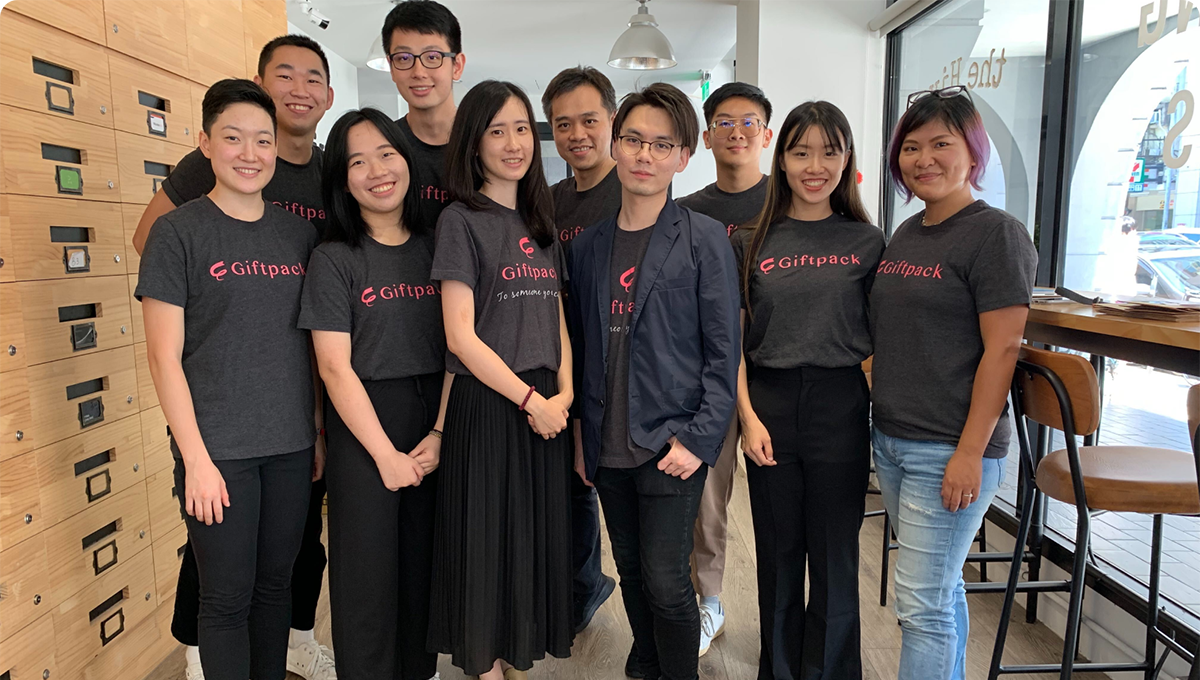 ― Please tell us more about your recent success.
In Korea, we were selected as one of 10 startups from more than 2,648 global applicants from 118 countries to participate in the K-Startup Grand Challenge Accelerator Program and worked with "theVentures" for three months. At the end of the program, the Korean government selected 30 startups, who qualified for additional financial incentives and support from the government upon establishing businesses in Korea. The Korean government is actively working to transform the country's economy by improving employment and GDP, and is aiming to become a global startup hub.
In Japan, one of the leading telecommunications carriers is going to try Giftpack.ai, and we are in the process of forming a business partnership with them. We have clients from around the world, including the United States, Taiwan, Hong Kong, Isreal, Korea, and Singapore. All of this growth happened in just a few months and we are super confident about the problem that we are solving, and the product/value we bring to the market.
― What do non-Japanese entrepreneurs need to be successful in Japan? Do you have any advice for non-Japanese entrepreneurs in Japan?
Non-Japanese entrepreneurs like us need to discover credible local partners and talented people to grow the business in a Japanese way. Considering the Japanese business culture is different compared to other countries, try to connect with as many governments and CVC resources as possible. I know sometimes you may have difficulties complying with local people's advice; however, it's their culture. Be open-minded and embrace everything you have experienced. Then your achievements and respect will follow later.
We will send you the latest events information or notify opening of applications for the Seed Accelerator Program, and more.
Subscribe Onlab Newsletter
▼ Related Link ▼