Our PhilosophyIncubating startups looking to succeed on a global stage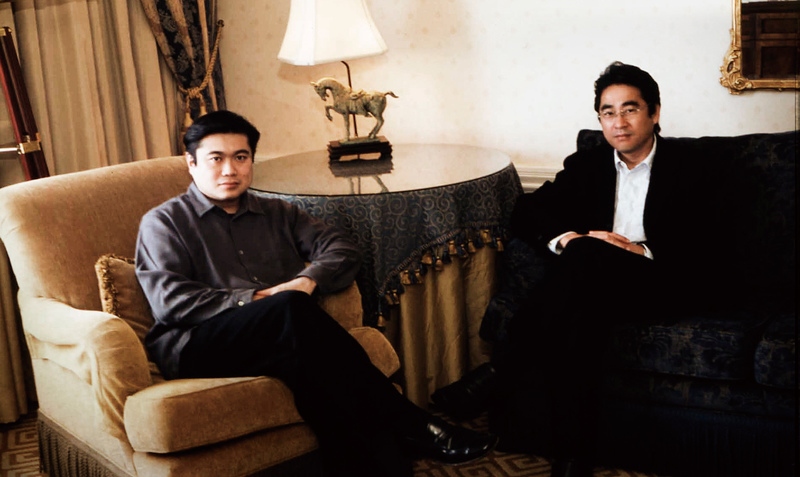 Onlab co-founders Kaoru Hayashi (Representative Director, President Executive Officer and Group CEO) and Joi Ito (DG Board of Directors Member and Co-Founder). Around the 10th anniversary of Digital Garage in San Francisco.
Open Network Lab (Onlab) began in April 2010 as a pioneer of seed accelerator program in Japan with the purpose of incubating startups that can compete on a global stage. Onlab has supported and cultivated over 100 startups through its program.
Onlab supports a diverse range of startups and entrepreneurs. With a strong founding belief that "people" and "passion" are some of the most important attributes for a successful startup, we rigorously select and work with entrepreneurs who are obsessive about the solutions they are trying to solve, and hustle to execute those ideas. These entrepreneurs must be willing to fail and be determined to go through multiple iterations of trial and error to provide optimal solutions that will help society.
The distinctive feature of Onlab is that it incubates startups who successfully enter the U.S. market and receiving investment from Silicon Valley investors after graduating the program. In Onlab, we think that the main stage for active startup is the entire world.
Several incubation programs specialized in specific categories and regions are also started. Onlab expands scope of its activities to support future entrepreneurs based on the know-hows from past programs.
Onlab will continue serving as a springboard for startups to be successful no matter where they are or go.
Our MissionStartup support 3.0
With the mission of incubating startups that are looking to succeed on a global scale, we have used our incubation expertise accumulated in the past eight years to help startups accelerate their growth and reach the next stage in their businesses. To keep producing high quality startups, Onlab is constantly evolving and enhancing our ecosystem by building a worldwide incubation stream and knowledge network comprised of startups, venture capitalists, and corporations connecting the US, Japan, Asia, and Europe.
Our Value
Onlab's programs offer opportunities for entrepreneurs to polish and accelerate their businesses with hands-on support from experienced entrepreneurs and experts. Other resources such as funding and office space is also included as support.
MENTORING
Receive mentorshp by investors (from both Japan and overseas), seasoned entrepreneurs, and subject matter experts. Experienced professionals from the Onlab team will work closely with participating teams to support hypothesis validation, product brush-ups, and pitch practice.
WORKSPACE
Places for online and offline use is available. You can use with your team and for networking with other entrepreneurs. *Please note that we are currently restricting the use of the facility to prevent the spread of COVID-19.
FUNDING
Receive funding of up to 10 million yen, so that you can focus on growing your business. The entire process leading to the investment, including interviews can be completed online. In addition, we provide ample support for subsequent financing.
ASSETS
Use the assets of Digital Garage Group to validate your ideas. These assets are provided by Digital Garage's advertising and payment divisions, as well as Kakaku.com, Inc., which operates Kakaku.com and Tabelog.
* Assets can be utilized in the condition there is business synergy between the companies.
BENEFITS
Gain access to numerous tools and resources from our partner companies. Our partners serve fundamental needs for every startup, ranging from infrastructure, development tools, hiring, and back-office tools—all at discounted or free prices.
DEMO DAY
Pitch to an audience of over 50 investors (from Japan and overseas) at the culmination of the program, for a chance to raise additional capital. We have experience running demo days and doing matchmaking with VCs fully online.
COMMUNITY
The Onlab Community, which includes Onlab alumni, current students, mentors, and members of Onlab team, is not only a place to send and gather information and consultations, but also a place where Onlab students actively interact with each other. We also help you connect with specialists in various fields and investors. After the program, there are study sessions and networking opportunities. Access Onlab Campus-a knowledge base of educational content to help startups break through growth bottlenecks. This includes case studies of past successes and failures of other startups, as well as latest lectures by subject matter experts, clips of past mentoring sessions, and demo days.
ALL STAGE, ALL SUPPORT
The Digital garage group supports a wide range of startup stages.
Programs
For details of each program, please refer to their respective pages.
We are developing support programs in accordance with each stage and area.
Total Startups
138Companies
Funding Success Rate
60.2%